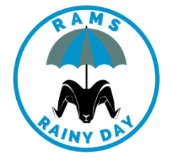 Rainy Day Rams Saving Program
The Rainy Day Rams saving program is offered by the Virginia Credit Union Financial Success Center at VCU. Participants will open a savings account with the Credit Union. Upon opening the account, Virginia Credit Union will deposit $25 to jumpstart your savings goals. If you complete one of the healthy financial behavior activities before April 15, 2023, Virginia Credit Union will deposit an additional $25 to your savings account for a total of $50!
To open a qualifying savings account, click here to get started:
Financial Health activities to complete and earn $25! (Must complete one or the other)
Meet with a Money Spot peer coach.
*Offer valid 2/1/2023 through 4/15/2023. Available only to current VCU students. In order to qualify for the $25 deposit, you must 1) be 18 years of age or older, and 2) open a new savings account with Virginia Credit Union by 11:59 pm on 4/15/2023. $0 is the minimum balance required to open the account. In order to qualify for the second $25 bonus, you must also have completed one (1) of the following by 11:59pm on 4/15/2023: attend a Money Spot financial coaching appointment, or complete two (2) online modules through the VCU Financial Fitness Academy. Offer may be withdrawn without notice. All accounts are subject to approval. $25 Deposit and Bonus Payment: Bonuses are not considered part of the opening deposit and will be reported to the IRS for tax purposes. You are responsible for any applicable taxes. We reserve the right to amend or cancel any part of this offer. Your account must be open and in good standing when the bonus is paid. Bonus will be deposited to account by 6/1/2023.